Attorneys John Ullian and Amy Puliafico help eliminate surprise from the divorce process with their book for consumers, Divorce: A Consumer's Guide To The Divorce Process. This easy to understand publication covers all facets of the divorce process.  This book is a valuable resource for:
Anyone who is getting divorced
Anyone who is contemplating divorce
Marriage counselors
Divorce mediators
New attorneys to the divorce practice
Support groups or organizations assisting people who are getting divorced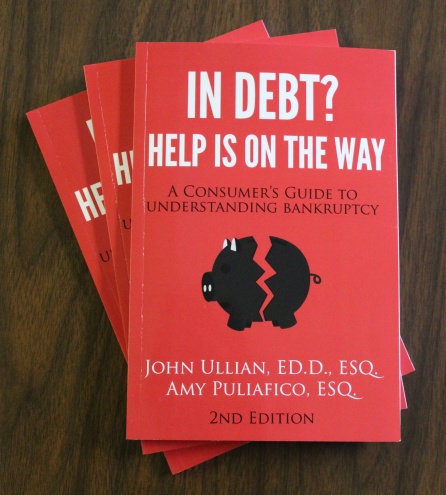 Just released in February 2018, Attorneys John Ullian and Amy Puliafico completed their most recent written collaboration, In Debt? Help is on the Way.  This extremely informative book is written specifically for individuals with financial problems. The book helps explain the potential benefits of bankruptcy, and the differences between Chapter 7, Chapter 11, and Chapter 13 bankruptcy.  For anyone looking to understanding bankruptcy, this book should be your starting point.
Legal Issues Of Public School Administrators In Massachusetts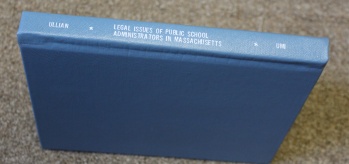 John Ullian wrote his dissertation, Legal Issues Of Public School Administrators In Massachusetts, in order, "to create a single text for Massachusetts public school administrators that addresses the major legal issues, laws and court rulings that apply to their daily decisions and actions. . . . It is intended to be reader-friendly, and therefore the legal jargon is kept to a minimum" (Ullian, 2006, pp. ix-x). The book is ideal for any public school administrator or teacher in Massachusetts.
The book covers includes:
The Legal System
Teachers: Hiring, Firing and Suspensions
Student Misconduct
Students' Exercise of Constitutional Rights
Notification of Abuse, Student Records and Individual Liability
Important Resources